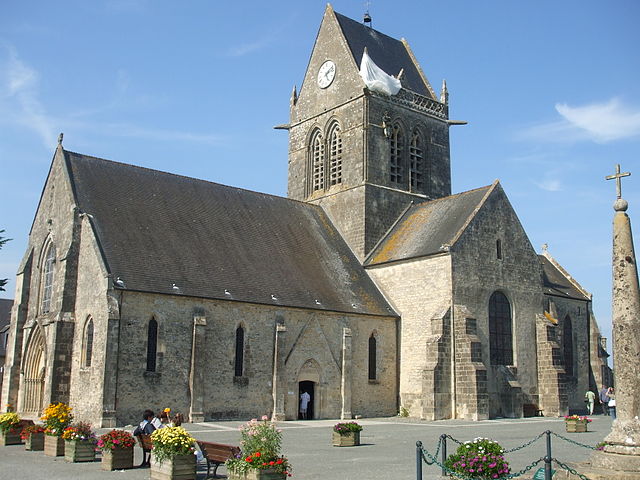 In the early morning of 6 June 1944 mixed units of the U.S. 82nd Airborne and U.S. 101st Airborne Divisions occupied the town in Operation Boston, giving it the claim to be one of the first towns liberated in the invasion.
The early landings, at about 0140 directly on the town, resulted in heavy casualties for the paratroopers. Some buildings in town were on fire that night, and they illuminated the sky, making easy targets of the descending men. Some were sucked into the fire. Many hanging from trees and utility poles were shot before they could cut loose.
A well-known incident involved paratrooper John Steele of the 505th Parachute Infantry Regiment (PIR), whose parachute caught on the spire of the town church, and could only observe the fighting going on below. He hung there limply for two hours, pretending to be dead, before the Germans took him prisoner. Steele later escaped from the Germans and rejoined his division when US troops of the 3rd Battalion, 505 Parachute Infantry Regiment attacked the village, capturing thirty Germans and killing another eleven. The incident was portrayed in the movie The Longest Day by actor Red Buttons.
Later that morning, about 0500, a force led by Lt. Colonel Edward C. Krause of the 505th PIR took the town with little resistance. Apparently the German garrison was confused and had retired for the rest of the night. However, heavy German counterattacks began later in the day and into the next. The lightly armed troops held the town until reinforced by tanks from nearby Utah Beach in the afternoon of 7 June.
"Église Notre-Dame-de-l'assomption" by Elliesram13 – Own work. Licensed under CC BY-SA 3.0 via Wikimedia Commons.